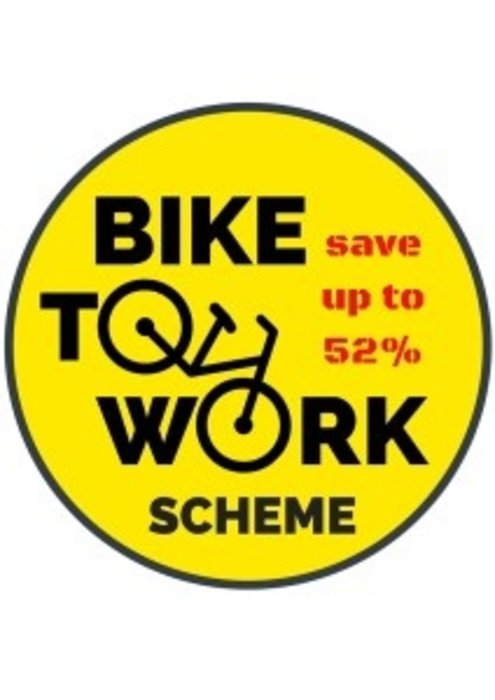 Got your eye on a new bike? Or need some new bike accessories? Did you know that with the Bike To Work Scheme you can save up to 52% on bikes, bike accessories and bike apparel? Use your bike to cycle to work or cycle part way to avail of the scheme.
HOW DO I SIGN UP?
Come into The Sports Room. Choose a bike to your liking or even bike accessories and apparel up to the value of €1250 or €1500 for an electric bike. We will provide you with a quote to bring to your employer who will then complete the necessary paperwork. Your employer must buy the bike in order for you to avail of the scheme. You can't buy the bike yourself and then ask them to reimburse you.
HOW DOES THE BIKE SCHEME WORK?
Choose a bike / accessories to any value
Ask your employer to pay for it
Receive tax relief to the max value of €1500 (cargo bikes or e-cargo €3000)
Some employers will pay for the bike directly, some will work through a third party bike to work provider. Find out from your employer what they would like you to do. The higher tax rate you are on, the better the savings.
HOW DO I PAY FOR THE BIKE?
Your employer generally arranges a 'salary sacrifice' over an agreed time, not more than 12 months. If so, you give up an agreed amount of your gross salary to cover the cost of the bicycle. You only pay Income Tax (IT), Universal Social Charge (USC) and Pay Related Social Insurance (PRSI) on the balance of your salary. This is how you make your saving. If the bike costs more than the max value allocated in the scheme, you pay the balance yourself.
CAN I GET THE BIKE TO WORK SCHEME MORE THAN ONCE?
Yes, you can. You can avail of the scheme every four years now (it used to be every five).
CAN I USE THE BIKE TO WORK SCHEME FOR BIKE ACCESSORIES?
Yes. You can buy helmets, lights, locks, puncture repair kits and lots more. You can also buy cycling clothing to keep you seen on the bike or dry. Bike brands we stock Orbea, Cannondale, Santa Cruz, Rocky Mountain, Kona and more. Stock up on accessories from brands such as Lezyne, Kask, Fox, Crank Brothers, Fizik, Topeak and more…
Be the first to comment...